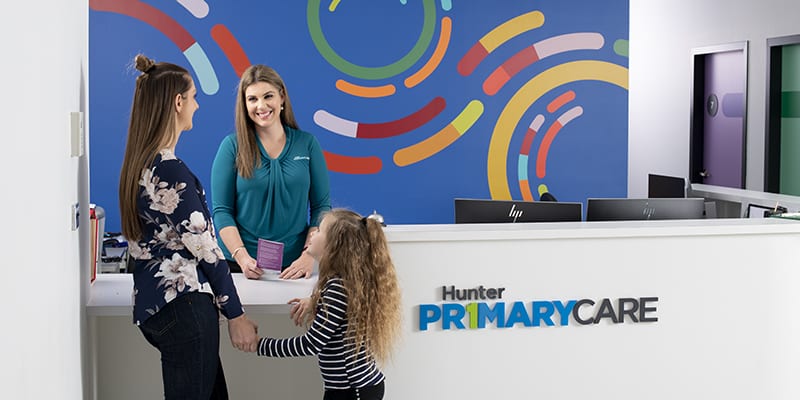 Join our team
Our organisation supports people to live a healthy life. We value employees who are passionate about assisting the community through embracing different backgrounds, cultures and experiences.
At Hunter Primary Care we respect and care for all people and celebrate diversity. We strive for excellence in all aspects of our decision-making, resulting in better outcomes for all. We recognise individual and team achievements and successes. We pride ourselves on our integrity through modelling transparent, consistent and ethical behaviour.
Hunter Primary Care offers careers in a wide range of professions including mental health, Aboriginal health, general health, disability support, administration, IT, finance, marketing & communications, human resources and more. Our dedicated and passionate staff are committed to improving health care outcomes for our local community.
View our current vacancies to see if there is currently a role to suit you.
Employee Benefits
Hunter Primary Care is a friendly and innovative organisation. We value the role that each team member plays and aim to nurture our staff through ongoing learning and training. Other employee benefits include:
Flexible working arrangements
Positive workplace culture
Staff events
Salary sacrificing options
Generous parental leave
Our purpose-built head office situated in central Warabrook is modern, accessible and surrounded by beautiful, landscaped gardens. Employees have access to free parking, a shopping centre located conveniently across the road and a large outdoor area to enjoy. We also have HPC offices located across the Hunter in Maitland and Newcastle CBD (headspace Newcastle).
PRIMA TEAM LEADER
Position Type: Full-time or part-time contract
Location: Warabrook
Closing Date & Time: 9am, Friday 13 March 2020
Pivotal leadership opportunity within Hunter Primary Care's Mental Health referral team, supported by a strong management team.
MENTAL HEALTH CLINICIAN - CARE COORDINATOR
Position Type: Full time and part time contracts available
Location: Various locations
Closing Date & Time: 5.00pm, Thursday 27 February 2020
Experienced Mental Health Clinicians required to support for people with complex mental health needs.
Expressions Of Interest for provision of CONTRACTED PSYCHOLOGICAL SERVICES 2020 - 2021
Position Type:  Contract
Location: Mid North Coast - Taree, Forster, Gloucester and surrounding areas
Hunter Primary Care (HPC) are seeking suitably qualified and registered Psychologists, Clinical Psychologists, Mental Health Nurses, Social Workers or Occupational Therapists to deliver psychological services under the Mental Health Services in Primary Care program in the Mid North Coast LGA e.g. Taree, Forster, Gloucester
HPC are offering an attractive sessional based fee and travel expenses to deliver these services in the above locations. The contract period is until the 30th June 2021.
If you are interested, please review the Summary of Services and submit an Expressions of Interest by clicking on Apply Now below.
For more information please direct any queries to Philip Carr, Service Manager on (02) 4925 2259 or via email at pcarr@hunterprimarycare.com.au ​.
Hunter Primary Care is an inclusive employer. We encourage flexible working and aim to create a work environment where all employees are valued, and can contribute, regardless of gender, age, culture, disability, sexual orientation or gender identity, Indigeneity, family and caring responsibilities or religion.
For more information about current Hunter Primary Care vacancies, please contact our Human Resources team on (02) 4925 2259 or email hr@hunterprimarycare.com.au